September 8, 2013
The Neon Trees, original content, SEO and Brand Linkage
We wrote a while back about the problems some advertisers have with brand linkage, and how often it gets (expensively) un-linked.
Our favorite example is a cleverly concepted ad that shows a parade of tour buses following a car. The buses represent the music genres the driver's listening to while she runs her errands around town. Vivid visual metaphor. Among the tour buses are a country group, a classical ensemble, some monks offering Gregorian chant, and … The Neon Trees.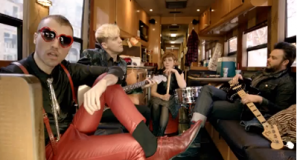 The first and most visible bus belongs to The Neon Trees, who "win" the competition as the next song chosen by the woman. We see the tour bus emblazoned with their huge logo, and we watch them rock out. (They're pretty amazing, by the way. We saw them recently in Chicago.)
Do you remember the spot? It looks very much like an ad for The Neon Trees, so you have a good chance of remembering them. Many people do. By contrast, however, you probably don't remember who the advertiser is, and which product is to be remembered*. If I'm wrong, and you clearly recall the product, tell me so – but I'd wager that link was broken for 99% of us.
What does any of this have to do with SEO?
One reason we wrote about this topic, and continue to discuss it, is to be findable. We need to be visible when brand managers search for information, so we tend our SEO garden, planting original content. That's why we monitored Google searches for  brand linkage since publishing the post. We moved from 48th position to 10th (first page, yay!) in a month.
Your path to higher visibility also rests with original content. It's not a secret, or a trick, or a gimmick. It's the best SEO strategy going. Let's talk about it.
*Can't remember the advertiser? Here's the spot. http://www.youtube.com/watch?v=ZqY9fLfG6wE