July 26, 2014
New technology measures the engagement of your content
So you sent out 1000 PDFs to your pipeline. 43 people downloaded it.

Would you like to know if those 43 actually read something?
Or if the other 957 actually read something?
Or which page was the most popular? Or most ignored?
You don't know any of this. You can't know any of this. PDFs do not – can not – report back on what was read. There's no practical way to measure engagement.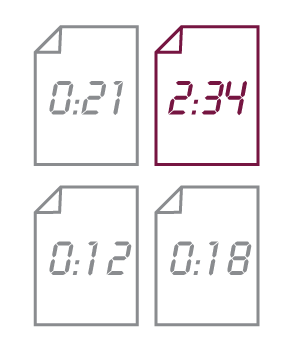 As a content marketer, it is crucial that you know what parts are hot buttons, and what's failing. Is anybody spending time on that chart on page 4?
Today, our revolutionary KinetiZine™ platform answers all those questions, giving you the feedback needed to refine your brand story. Not only is this interactive delivery vehicle engaging, it reports back to you on who's engaged.
Old-fashioned static PDFs may tell you that you sent 1000, and that 4.3% downloaded it, but that's all you know. It's all guesswork after that.
Suppose instead you send 1000 KinetiZines, and learn that these 327 people read page two, and averaged more that 90 seconds on it. Or that only 14 people watched the full length of the video on page six. Hmmm. Time to edit that video.
Suppose you set up a KinetiZine business rule that anyone who spent 4 minutes on the new product section gets offered a discount or a freemium or additional information. (All of that is testable, or course, so you can keep refining your message.)
Engage them. Identify them. Monitor them. Make them into customers. Yes, we can convert your static content into exciting KinetiZine form. And it will cost less than you expect, happen faster that you would guess, and demand nothing from your IT people.
Send us what you're sending out now, and we'll evaluate with you what the next steps can be. Call us and we'll walk you through it.